Self-paced Course
Regular price
Sale price
$129.00
Unit price
per
Sale
Sold out
Planning to travel to France or Quebec this summer? Sign up for our brand new course for free!
French For Travellers provides you with the opportunity to gain confidence in using French during your travels through easy-to-follow lessons and engaging exercises.
Share
View full details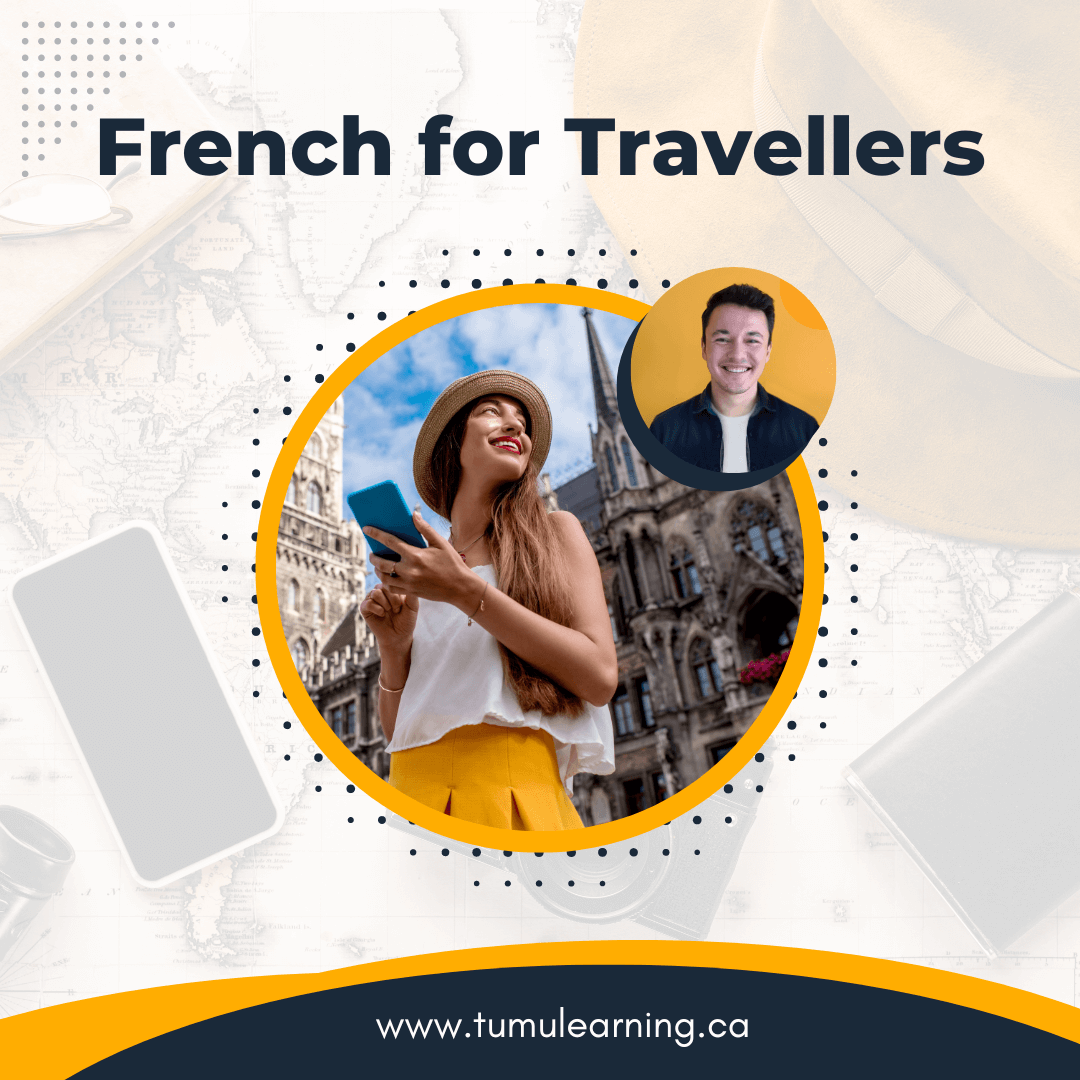 Navigate French-Speaking Destinations with Confidence
Well-designed Program

Experience a carefully organized curriculum that follows a logical structure and incorporates insights from one-on-one students.

Interactive Learning

Engage in interactive learning that enables you to practice through videos, quizzes, and personalized consultations.

Cultural Insights

Discover the rich cultural insights of France and Canada, gaining valuable information about the local practices.
Course Curriculum
Get ready to learn important French skills such as checking in at the airport, navigating hotel procedures, confidently ordering food at restaurants, and exploring the city.
Lesson 1: Preparing for Your Trip
Start your language journey by mastering important polite expressions, asking for clarification, and expressing your needs effectively before your trip.
Lesson 2: Interacting at the Airport
Gain confidence in airport interactions with our interactive lessons. Master vocabulary and phrases for check-in, security, and boarding, ensuring a stress-free travel experience.
Lesson 3: Arriving at the Hotel
Learn how to navigate hotel check-in, communicate with staff, and handle common situations during your stay.
Lesson 4: Navigating the City
Learn about important landscapes and how to read maps using a Montreal city map and information on Paris attractions. From asking for directions to understanding them, our self-paced course equips you with the vocabulary and phrases needed to explore confidently.
Lesson 5: Dining Out
Learn important food and drink vocabulary, how to read menus, make reservations, order food, and ask for the bill with confidence
About French For Travellers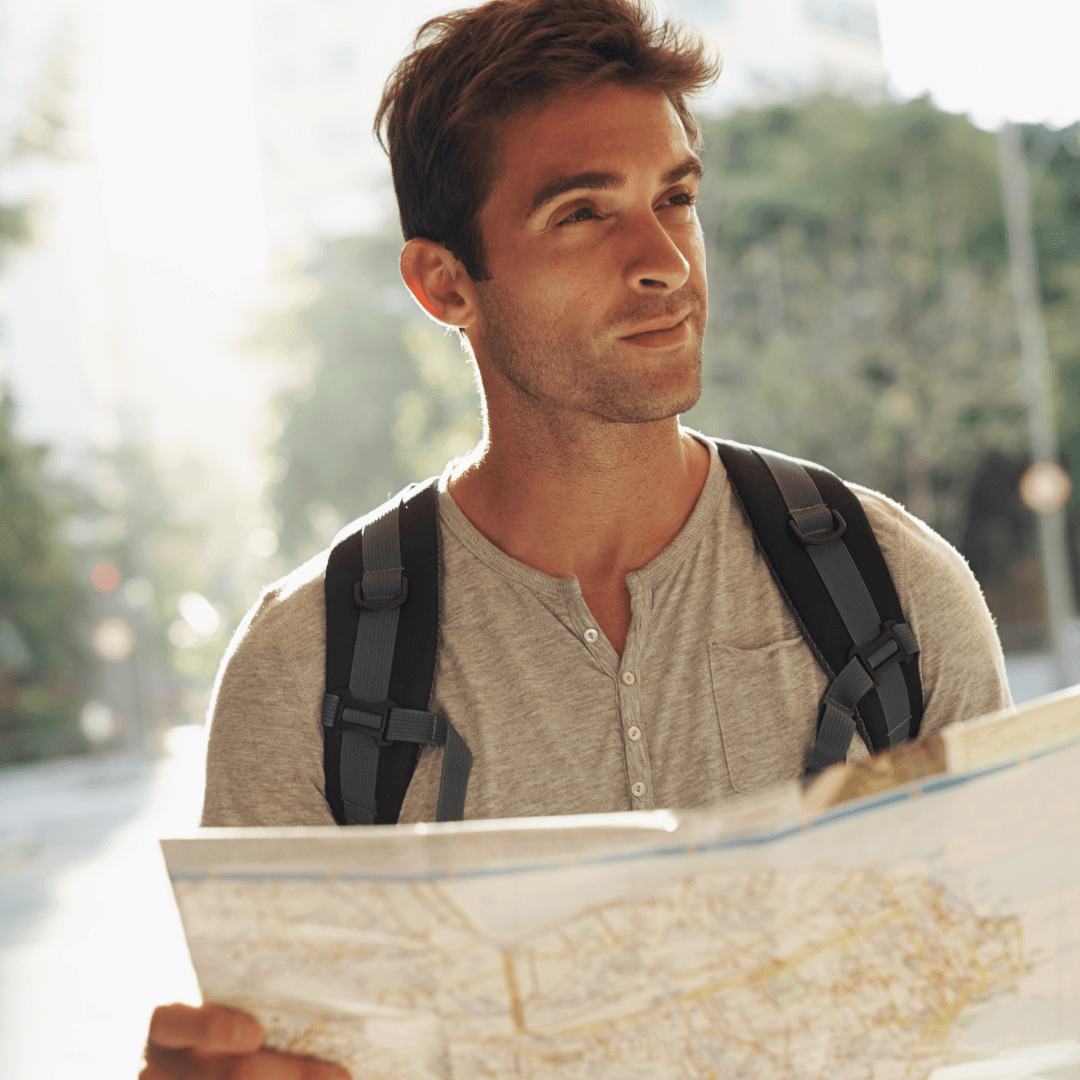 What you will learn

In this course, you will acquire essential French language skills specifically tailored for travel purposes. You will learn how to express your needs effectively, ask simple questions, engage in basic conversations, and navigate common travel scenarios with confidence.
Why you shoud take this course

By enrolling in this course, you will gain the necessary skills to perform simple tasks and significantly improve your ability to communicate in French. This course will provide you with practical knowledge and boost your confidence in French communication.
Course length

Our self-paced course offers the flexibility to fit your schedule. With 5 modules to complete, you can progress at your own pace and customize your learning experience to meet your specific needs. The course length varies based on your learning speed and study time commitment, allowing you to learn comfortably and at a pace that suits you.
Course level

Our course is specifically designed for beginners and covers topics in French language learning aligned with the A1-A2 proficiency levels. You will start from the basics and gradually build your skills, focusing on fundamental vocabulary, grammar structures, and practical conversational situations.
Bonus

Interactive exercises and quizzes for engaging practice
Pronunciation exercises to improve spoken French
Cultural insights to deepen understanding
24/7 support and guidance for assistance
Certificate of completion upon finishing the course
Meet Your Instructor
My name is Umut. I'm a French teacher based in Toronto, Canada, and I have a genuine passion for the French language, culture, and literature. I recently completed my PhD in French Literature from Western University, London, Canada. 
With over five years of experience, I have taught French, and provided learning solutions to adult learners.
I designed this course based on my experience with one-on-one students who traveled to France and Quebec. The course includes numerous useful phrases and expressions for your trip, as well as engaging language activities.
I'm confident that you will enjoy the course. Be sure to check out my student reviews and sign up for a free preview of the course.
See you in the course!
Founder & Director of Tumu Learning
Discover our exciting, brand new course!
Very useful for learning new phrases and pronouncing French correctly
Umut truly understands the needs of learners like myself. This course is incredibly useful for learning useful phrases and pronouncing French correctly. He explains concepts clearly and making the learning experience enjoyable and effective.
Can't wait to start!
I'm excited about this course and have already enrolled. I had previously taken Umut's beginner lesson, which were perfectly tailored to my individual needs.
Frequently Asked Questions
What is included in the course?

The course offers a comprehensive range of learning materials to support your French language journey. It includes over 50 engaging lesson videos covering grammar, vocabulary, pronunciation, and conversation skills. Additionally, you will have access to exercises and quizzes to practice and reinforce your learning. The course also provides downloadable PDF documents that serve as supplementary materials for further practice and reference.
Is prior knowledge of French required to start the course?

The course is designed for students with little experience with French.
Will I receive any support while taking the course?

Yes, absolutely! You will have access to support throughout your learning journey. If you have any questions or need clarifications, you can reach out to your instructor, and they will respond within 24 hours. Additionally, you have the option to book private lessons to further support your learning and receive personalized guidance.
Can I access the course materials at any time, or is there a set schedule to follow?

Our self-paced courses are designed to be flexible, allowing students to access course materials at their convenience without following a set schedule. You will have 3 months of access to the course.
What level will I achieve at the end of the course?

By completing this course, you will achieve proficiency in French at the A1 level. The course is specifically designed to cover topics and skills aligned with the A1 proficiency level. You will gain a solid foundation in essential vocabulary, grammar structures, and conversational abilities necessary to communicate effectively in everyday situations.
Will I receive a certificate upon completing the course?

Yes, upon successful completion of the course, you will receive a certificate. It can be a valuable addition to your resume, showcasing your commitment to personal and professional development.