Self-paced course
Regular price
Sale price
$99.99
Unit price
per
Sale
Sold out
Are you a beginner looking to learn French? Join our Beginner French Course!
Share
View full details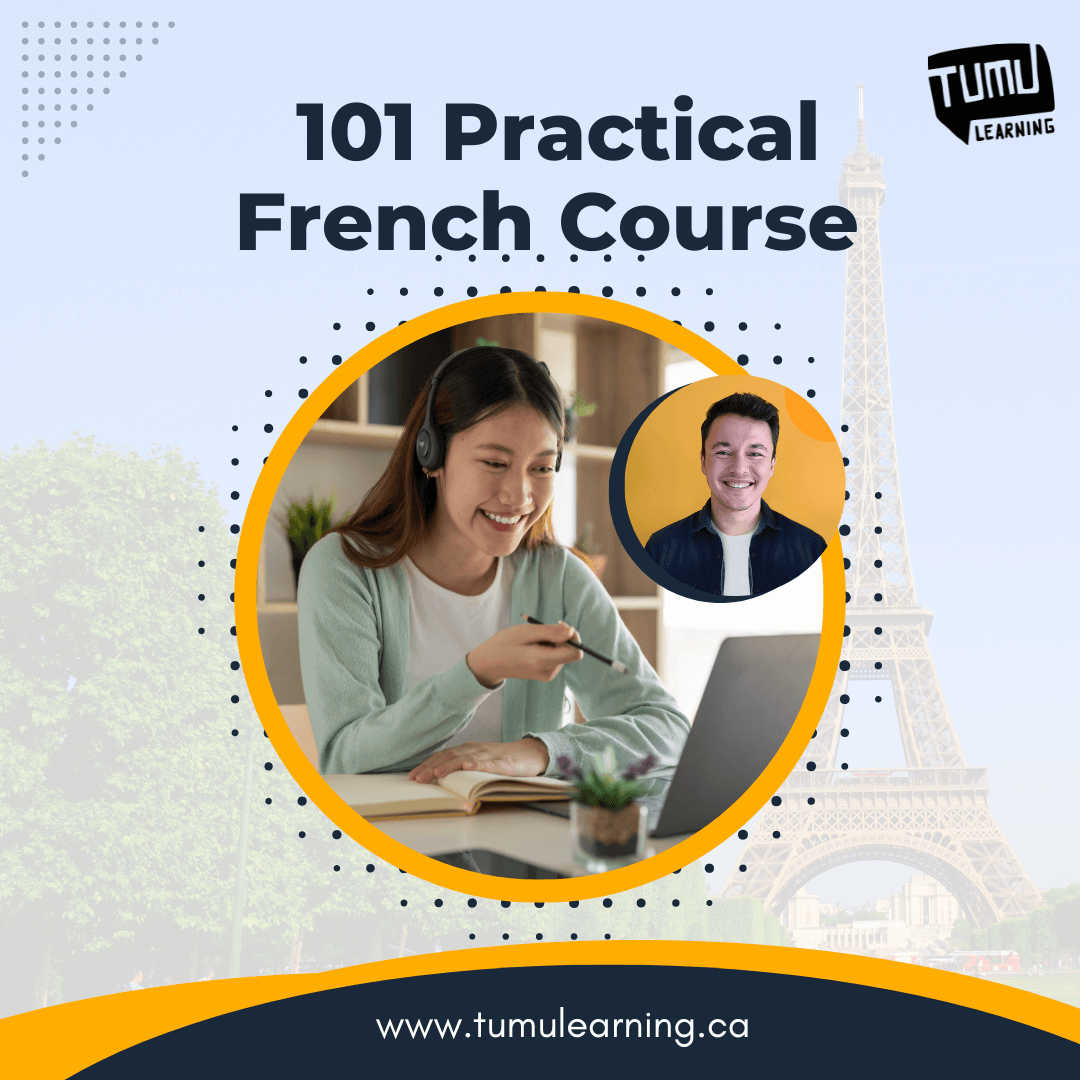 Très bon cours!
I've been taking Umut's 101 Practical French course and I've learned so much! The quality of lessons is great. The materials are well-organized, and the exercises are designed to reinforce the concepts learned. Overall, the course is very effective and has exceeded my expectations. Merci!
Umut is amazing! His focus on pronunciation and repetition made a huge difference in my ability to speak and understand French. He also takes the time to ensure I truly understood the content, and even highlighted differences between France and Canadian French that I had never known before. I highly recommend this course!
Great to start French!
As a complete beginner to French, I wasn't sure where to start or how to progress. but this course was just what I needed. The lessons are broken down into manageable chunk, the exercises and quizzes are also helpful.
Since completing the course, I've been taking private lessons with Umut, and I'm already able to have basic conversations in French.
I've always wanted to learn French, but I never had the time or resources to commit to a course. The lessons are engaging, the pacing is perfect, and the online format makes it easy to fit studying into my schedule. Highly recommended!
Great Teacher
Well-structured curriculum and lots of opportunities to practice speaking and listening. Plus, Umut is a great teacher and always on hand to answer any questions or concerns. I highly recommend this program to anyone who wants to learn French!
About 101 Practical French
What you will learn

By the end of this comprehensive course, you will have a solid foundation in French, including:

Introduction yourself and other
Discussing your interests
Ordering foods and drinks with confidence

In addition to the essentials, such as the French alphabet and pronunciation rules, you will also work on forming questions and improving your reading, writing, and speaking skills. Whether you're a complete beginner or just looking to brush up your French, this course covers all the important elements for effective communication.

*** This course will require you to record yourself speaking. Therefore you must have a phone/computer with a functional camera and microphone.***
Who should take this course?

101 Practical French is the perfect solution for anyone looking to start their French language journey. With a focus on both French and Quebec French vocabulary, it covers a range of topics and is suitable for individuals with varying motivations, such as pursuing school or professional goals, traveling, or preparing for an exam.

This comprehensive course is designed for beginner French learners and offers the tools necessary for personal and professional development.
Why should you take this course?

Here are five reasons to enroll in this course:

1) 88 engaging and enjoyable lessons, totaling 2 hours of captivating video content.

2) 24/7 support to ask any questions you may have.

3) Well-structured curriculum that builds your knowledge incrementally, week by week.

4)Dedicated French teacher with a PhD who brings a wealth of expertise to the course.

5) Weekly interactive exercises and receive personalized feedback on your progress.
Course length

6-week program offers a comprehensive and in-depth learning experience
Flexibility to work through the lessons at your own pace
3 months of access to the course materials
Bonus

Supportive learning community
Expert support and guidance, available 24/7.
Frequently Asked Questions
What is included in this course?

The course offers a comprehensive range of learning materials to support your French language journey. It includes over 80 engaging lesson videos covering grammar, vocabulary, pronunciation, and conversation skills. Additionally, you will have access to exercises and quizzes to practice and reinforce your learning. The course also provides downloadable PDF documents that serve as supplementary materials for further practice and reference.
Is prior knowledge of French required to start the course?

The course is designed for students with little or no prior experience with French.
Will I receive any support while taking the course?

Yes, absolutely! You will have access to support throughout your learning journey. If you have any questions or need clarifications, you can reach out to your instructor, and they will respond within 24 hours. Additionally, you have the option to book private lessons to further support your learning and receive personalized guidance.
Can I access the course materials at any time, or is there a set schedule to follow?

Our self-paced courses are designed to be flexible, allowing students to access course materials at their convenience without following a set schedule. You will have 3 months of access to the cours
What level will I achieve at the end of the course?

By completing this course, you will achieve proficiency in French at the A1 level. The course is specifically designed to cover topics and skills aligned with the A1 proficiency level. You will gain a solid foundation in essential vocabulary, grammar structures, and conversational abilities necessary to communicate effectively in everyday situations.
Will I receive a certificate upon completing the course?

Yes, upon successful completion of the course, you will receive a certificate. It can be a valuable addition to your resume, showcasing your commitment to personal and professional development.